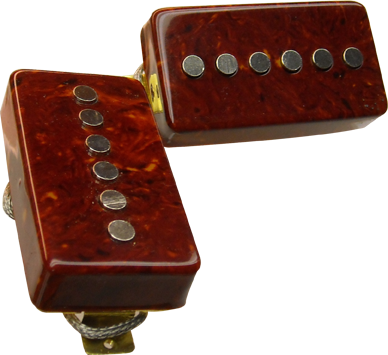 Large single coil pickups can have a wider tonal range than humbuckers and many players prefer the "spank", or wider dynamic range of single coils. Our Z-90 is the Original humbucker-size single coil pickup, and will drop right into your stock humbucker routing and mounting rings, with no modifications to the guitar.
"I had the Z-90 installed just days before I recorded 'Good Dog, Happy Man', and got sucked into its big, full sound. I wound up using it on every song." - Bill Frisell

The Z-90 matched set uses two completely different pickups for the neck and bridge positions. The oversize pole pieces provide a higher output and richer bass response, and allow for string bending without loss of output. The neck pickup uses an oversize magnet structure to tighten up the fat bass response. The bridge pickup uses a special bobbin and winding technique to allow 30% more turns to balance the neck pickup with an even hotter output, and give you a huge, fat sound with incredible range, punch, and clarity.
Introduced in 1994, Z-90 pickups continue to generate rave reviews from guitar magazines and pro players everywhere.